Yes!... We conquered the highest peak of Australia on Australia Day!
At the Peak , 2228 above sea level.
That's Keith & me with the magnificient background of the Kosciuszko National Park. It was quite chilly at the top despite the scotching hot temperature of 38 degree ceicius at the foot of the mountain
From the pictures... it may not seem hard to walk up the slope... but i almost could not make it to the top!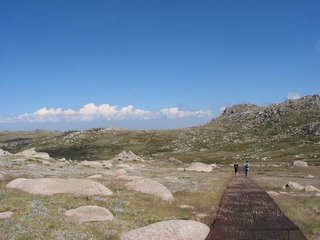 The surrouding landscape seemed like the place where Lord of The Ring was filmed.